The Dewey Decimal System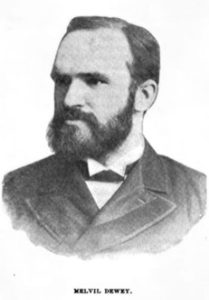 The Dewey Decimal System is a common method to classify nonfiction books.  The Risen Christ Lutheran School Library uses a modified form of Dewey Decimal. The Library has a separate section for Folktales, Poetry, and Biography rather than keeping them within the 300, 800, and 900 sections.  However multiple biographies are kept within the 900 section.
Melville Louis Dewey contributed greatly to American librarianship.  He invented the Dewey Decimal System when he was 21 while working as a student assistant in the library of Amherst College.  In 1876 he helped establish the American Library Association (ALA), co-founded and edited the Library Journal, became the librarian at Columbia College (now Columbia University) in New York City in 1883, and founded the world's first library school at Columbia in 1887.