Welcome to the Risen Christ Lutheran School Library
Mission of the Library
The mission of the Risen Christ Lutheran School Library is to encourage students to become effective users of ideas and information.  The library strives to provide a wide range of materials and levels of difficulty that will stimulate growth in knowledge, establish a life-long love of reading, and foster information literacy.
Librarian Favorites:
Putting together list. Information will be available soon
Student Favorites:
Putting together list. Information will be available soon
Genre Classifications
Accelerated Reader Coding
Dewey Decimal System
Please note that books have AR levels on the book spine. If the spine does not have the code, it was not included in the AR data base when the book was checked. Sometimes books are added at a later time by AR.
Picture Books
Books are grouped alphabetically by author's last name. Note that many picture
books actually have a high reading level.
Call Number: First letter of author's last name with the full last name under the letter.
C
Carle
Location: Shorter bookcase (middle and right-side wall)
Primary Fiction
These books have an AR level up to 3.0 or slightly above. Many of these books are
beginning chapter books and easy reader series books. They are arranged alphabetically
by author's last name.
Call Number: PF (primary fiction) label on top and the author's last name underneath
PF
Rylant, C.
Location: Lower level bookcase to the right when entering library. Yellow containers
on the top of the bookcase include smaller size paper back primary fiction.
Juvenile Fiction
These books have AR levels above 3.0 to over 8.0. Some picture books with more
mature content are included (example—Pink and Say by Polacco about the Civil War).
Fiction books include: realistic fiction, historical fiction, fantasy, and science fiction.
Many books have special labels that identify genres other than realistic fiction. Books
are arrange alphabetically by author's last name.
Call Number: The code JF is on the top with the author's last name and first initial
On the bottom. Occasionally the complete first name is given.
JF
Paulson, G.
Location: Tall bookcases on the left side and two directly in the back.
Young Adult
A few books are labels YAF (Young Adult Fiction). Some nonfiction books are included. These books are separated from the juvenile books due to mature content and language (on occasion). Students need parental permission to check out these books.
Call Number: The code YAF or just YF is on the top with the author's last name and
first initial under.
YAF
Voight. C.
Location: Top of tall bookcases against front wall.
Nonfiction
Nonfiction areas are classified according to the Dewey Decimal System. Note
that folklore (398) and poetry (811) are considered nonfiction as folklore is
considered culture and poetry literature. Primary nonfiction is not labeled
separately, but many are found within the green and red plastic containers in the nonfiction section.
Call Numbers: The code JNF (juvenile nonfiction) if on the top, the Dewey
number in the middle, and the first three letters of the author's
last name (or complete last name) on the bottom.
JNF
970
Fre
Poetry: Poetry is considered nonfiction (811) and has its own bookcase.
Books are organized by the author's last name. A symbol is placed
on the book spine to indicate that it is a poetry book.
Folktales: Folktales are considered nonfiction as they relate to culture. These
books are organized by the story type. For example, all Red Riding
Hoods are placed together regardless of the author or illustrator.
Books are also organized by countries/locations.
The books in this section are retellings, not revisions or adaptations.
However, anthologies are organized by author/editor.
Locations:
Regular nonfiction: Two tall bookcases in the back of the room and
and third adjacent
Poetry: Tall bookcase closest to computer.
Folklore: Bottom shelf of poetry bookcase.
Biography
Biographies are categorized by the last name of the person, not the author.
However, a few books are by author that include multiple biographies.
Call Number: The top code is a capital B (for biography) with the last name
of the individual on the bottom. A symbol is placed on the spine.
B
Lincoln, A.
Location: Tall bookcase next to Primary Fiction. Containers include series of
Biographies as Who was……?
Graphic Novels
Graphic novels can be both fiction and nonfiction. They are labeled with a sticker on the
Side indicating they are a graphic novel and contain either the JF or JNF categorizing.
Location: Currently all graphic novels are grouped together on the top of the bookcase
directly across from the door.
Holiday Books
The shorter bookcase next to the computer includes a variety of holiday books. Most
have a label for the specific holiday. These include both fiction and nonfiction books.
Color coding for Accelerated Reader program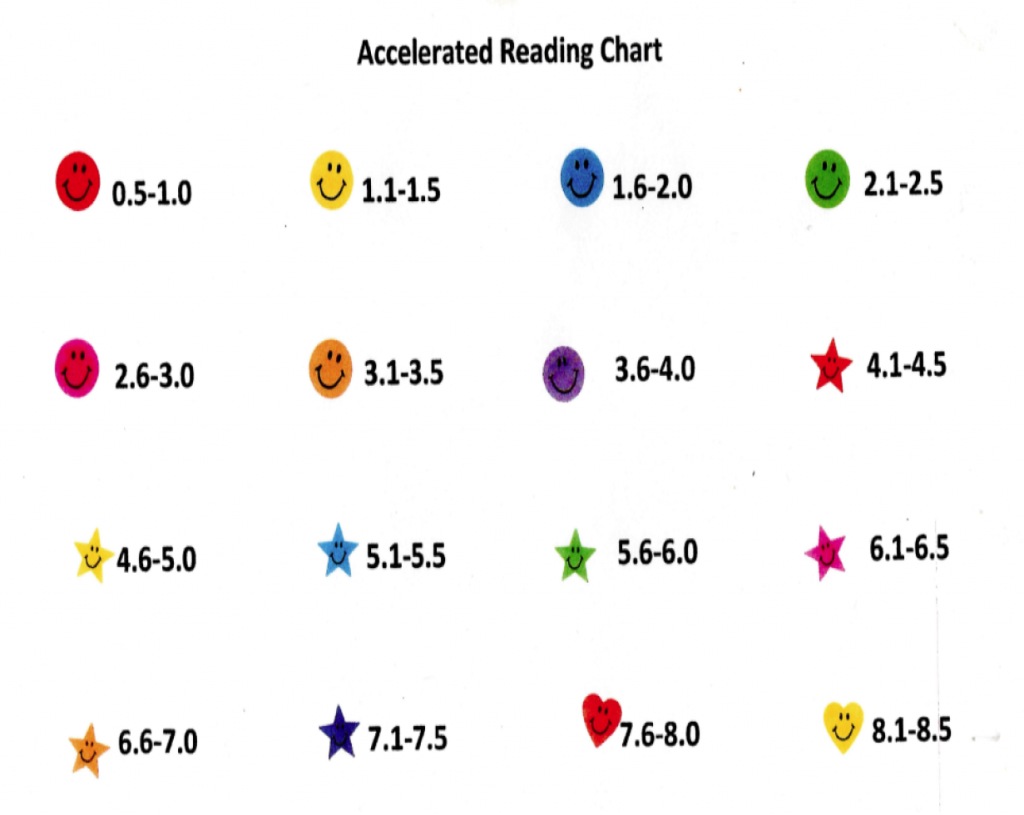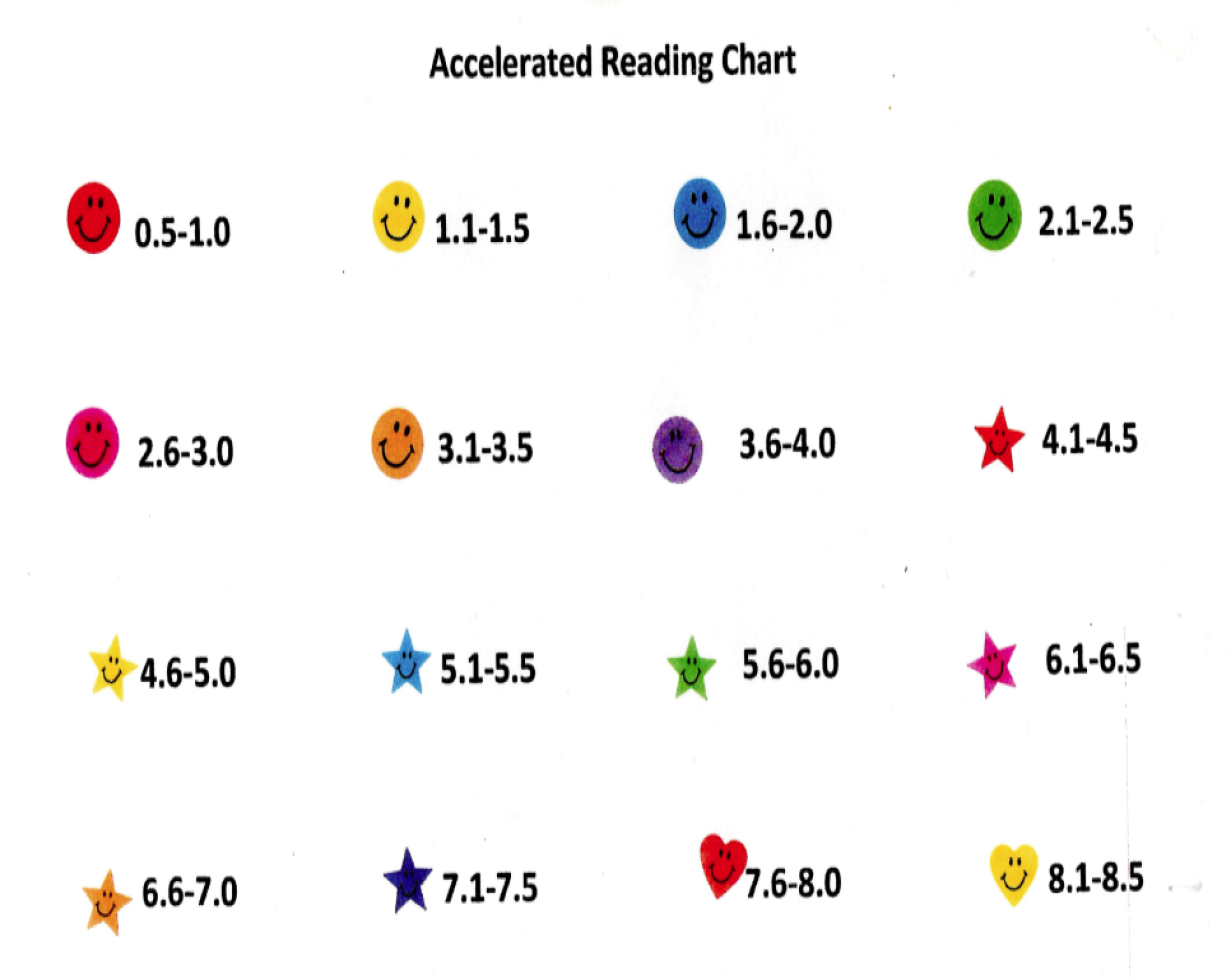 What is Accelerated Reader?
Accelerated Reader is a software program that we use to track students' independent reading progress. Like any skill to be mastered, reading requires instruction as well as daily practice. Accelerated Reader (AR) is a way we monitor reading practice and reinforce positive reading habits.
It's pretty simple, really, students read a book, take an AR quiz on the computer, and get immediate feedback. Teachers can monitor their progress, and provide support in selecting reading materials at an appropriate level.
How do I know what level books my student should be reading?
At the beginning of the school year (and several times throughout the year) you student will take an online assessment call the STAR test. This takes approximately 30 minutes, and assesses several areas of reading. The STAR test also generates a ZPD level, and this is what helps the teacher/student/parent identify the correct level for reading practice.
What does "ZPD" mean?
ZPD stands for "Zone of Proximal Development". Reading practice within this zone will result in the greatest amount of reading growth. We know that if we do tasks that are too easy for us, we never improve. If those tasks are too hard, we become frustrated and don't want to practice anymore. We need to find the tasks that are the "just right fit" for our abilities – we are still challenged, without becoming frustrated.
For example, if a student's ZPD is identified as 2.3 – 3.3, that means that he/she will get the most growth if his/her reading practice is focused on books that are between 2nd grade 3rd month, and 3rd grade, 3rd month.
What if my child wants to read something outside their ZPD?
As adult readers, we know that finding books we are interested in is not always an easy task, and as a student, sometimes this is even harder when asked to stick to a certain reading level.
We do not want you or your child to be frustrated with reading practice at home!
Our goal is to help you raise life-long readers. If your student is interested in reading a book a little above or a little below the ZPD level, we ask that you jot a quick note to the teacher so that he/she can monitor their progress on the book in class, and offer support if needed. After the AR quiz is taken, it would be a good idea to see if your student was successful (score of 80% or higher), and have a plan for what to read next.
Why does my child have a "point goal"?

Many of our teachers set point goals with their students. Each time a student takes a test, he/she earns a certain amount of points depending on the level/difficulty of the book, and the score earned.
For example, a short chapter book might be worth 1.0 point. The student took a quiz and scored 80%. This means they earned 0.8 points on that book.
The point goal should be set with input from
both the student and the teacher
. Just like the ZPD, if it's too high the student sees it as unattainable. If too low, there will not be much effort put towards it, and as a result, little growth.
How do I find out which books we have at home are AR books?
Use ths link to go to
AR Bookfinder
and look up books!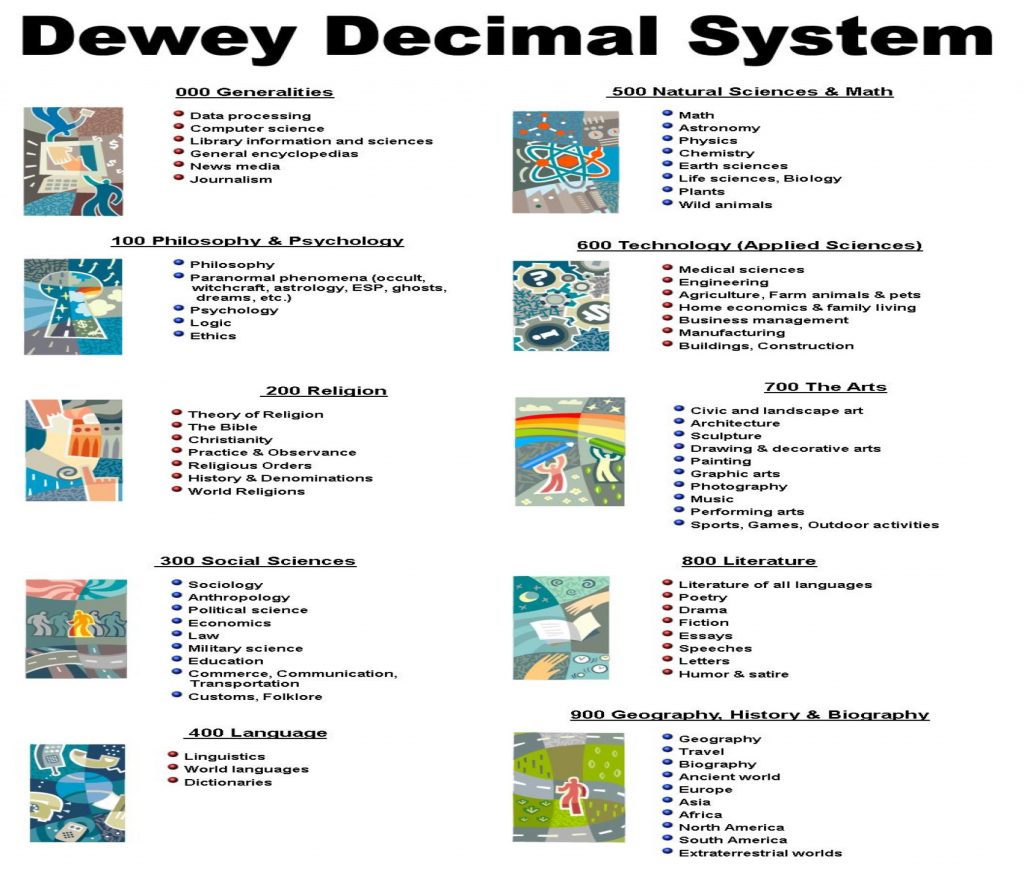 The Dewey Decimal System is a way to put books in order by subject. It is often used in public libraries and schools in the United States and other countries. It places the books on the shelf by subject using numbers from 000 to 999. It is called "decimal" because it uses numbers to the right of the decimal point for more detail (e.g. 944.1 for History of Brittany). Each subject has its own group of numbers. The system was created by Melvil Dewey in 1876. It is also called the Dewey Decimal Classification. The classification has been changed many times. The latest change is number 23 in 2011. There is also a smaller one for small libraries called "Abridged Dewey".
Each subject is broken up into 10 smaller, more specific categories.
000 – Computer science, information, and general works
100 – Philosophy and psychology
200 – Religion
300 – Social sciences
400 – Language
500 – Science 600 – Technology
700 – Arts and recreation
800 – Literature
900 – History and geography